Migraine Market Professional Industry Research Report 2030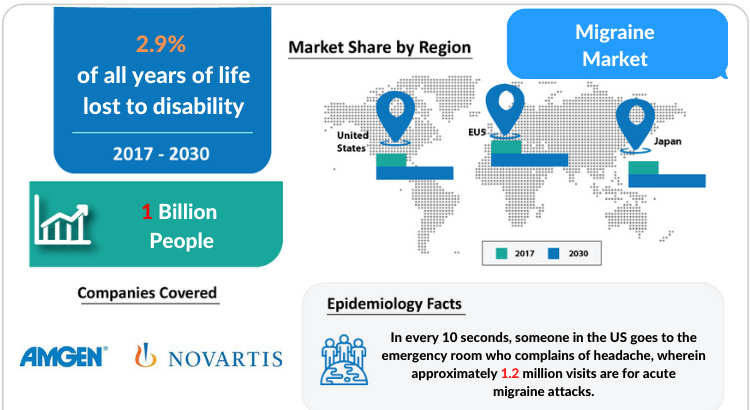 DelveInsight has added a new research study on Migraine Market Report with detailed information on the overview, market insights, drugs industry, treatment, growth, size, share, trends, during the forecast period of 2017 to 2030
Migraine Overview
Migraine is a neurological disorder, which involves nerve pathways and brain chemicals. It is an uncertainty in the way the brain deals with incoming sensory information, and that uncertainty can be influenced by physiological changes like sleep, exercise, and hunger and is one of the most common and most prevalent neurological diseases with extremely incapacitating neurological symptoms.
Download full PDF Migraine Sample Copy of the Report @ https://www.delveinsight.com/sample-request/migraine-market
Migraine Market: Regions Covered
The United States
EU5 (Germany, France, Italy, Spain, and the United Kingdom)
Japan
List of Companies involved in Migraine Market Report:-
Lundbeck Seattle BioPharmaceutical
Eli Lilly and Company
Amgen/Novartis
Teva Pharmaceuticals
Allergan
Biohaven Pharmaceuticals
Dr. Reddy's Labs
Eli Lilly and Company
Allergan
Biohaven Pharmaceuticals
AbbVie
Impel NeuroPharma
Zosano Pharma
Axsome Therapeutics
Migraine Symptoms
It includes severe throbbing recurring pain, usually on one side of the head, often accompanied by visual disturbances, nausea, vomiting, dizziness, extreme sensitivity to sound, light, touch and smell, and tingling or numbness in the extremities or face; although symptoms usually include a severe throbbing recurring pain on one side of the head, yet in one-third of migraine attacks, both sides are found to be affected.
Migraine Diagnosis and Treatment
It covers the details of conventional and current medical therapies and diagnosis available in the migraine market to treat the condition. It also provides country-wise treatment guidelines and algorithms across the United States, Europe, and Japan.
Migraine Market Outlook
There has been a significant advancement in the understanding of the migraine pathophysiology, which has led to the improved characterization and diagnosis of the clinical features. For treatment to be effective, the correct diagnosis must be made followed by choice of treatment, taking into account the severity and frequency of attacks, other symptoms, patient preference, history of treatment, and comorbid conditions.
Treatment can be acute or preventive. Acute treatment is initiated during an attack to alleviate pain and disability and to stop the progression of the attack. Preventive treatment is used when there exists a known headache trigger, such as exercise or sexual activity, and for patients who have limited time exposure to a trigger, such as high-altitude ascent or menstruation.
Migraine Emerging Drugs Analysis
The migraine field has recently been experiencing an explosion of novel, specifically-designed acute, and preventive treatments, reflecting advances in the understanding of this disorder and better acknowledgement of its detrimental global impact on sufferers' quality of lives. The most promising novel treatments are targeting the Calcitonin-Gene-Related Peptide (CGRP) receptor and the 5 hydroxytryptamines (5-HT) 1F receptors, which are known as the putative migraine pathophysiological mechanisms.
Read Detailed Table of Content of Migraine Market Report–
1. Key Insights
2. Report Introduction
3. Migraine Market Overview at a Glance
4. Executive Summary of Migraine
5. Disease Background and Overview
6. Treatment
7. Epidemiology and Patient Population
8. Organizations contributing toward Migraine
9. Patient Journey
10. Case Reports
11. Marketed Therapies
12. Emerging Therapies
13. Migraine: Seven Major Market Analysis
14. Market Outlook
15. Market Access
16. Market Drivers
17. Market Barriers
18. Unmet Needs
19. SWOT Analysis
20. Appendix
21. DelveInsight Capabilities
22. Disclaimer
23. About DelveInsight
Migraine Market Report Scope
The report covers the descriptive overview of migraine, explaining its causes, signs and symptoms, pathophysiology, and currently available therapies
Comprehensive insight has been provided into the Migraine epidemiology and treatment in the 7MM
Additionally, an all-inclusive account of both the current and emerging therapies for migraine is provided, along with the assessment of new therapies, which will have an impact on the current treatment landscape
A detailed review of the Migraine market; historical and forecasted, is included in the report, covering drug outreach in the 7MM
The report provides an edge while developing business strategies by understanding trends shaping and driving the global Migraine market
How Does This Migraine Market Insights Help?
The report will help in developing business strategies by understanding trends shaping and driving the Migraine market
To understand the future market competition in the Migraine market and Insightful review of the key market drivers and barriers
Organize sales and marketing efforts by identifying the best opportunities for Migraine in the US, Europe (Germany, Spain, Italy, France, and the United Kingdom) and Japan
Identification of strong upcoming players in the market will help in devising strategies that will help in getting ahead of competitors
Organize sales and marketing efforts by identifying the best opportunities for Migraine market
To understand the future market competition in the Migraine market
About Us
DelveInsight is a Business Consulting and Market research company, providing expert business solutions for life science vertical and offering quintessential advisory services in the areas of R&D, Strategy Formulation, Operations, Competitive Intelligence, Competitive Landscaping, and Mergers & Acquisitions
Media Contact
Company Name: DelveInsight Business Research
Contact Person: Yash Bhardwaj
Email: Send Email
Phone: 9193216187
Address:304 S. Jones Blvd #2432
City: Las Vegas
State: NV
Country: United States
Website: https://www.delveinsight.com/