Kolkata based Startup launches the Simplest Product Roadmap Tool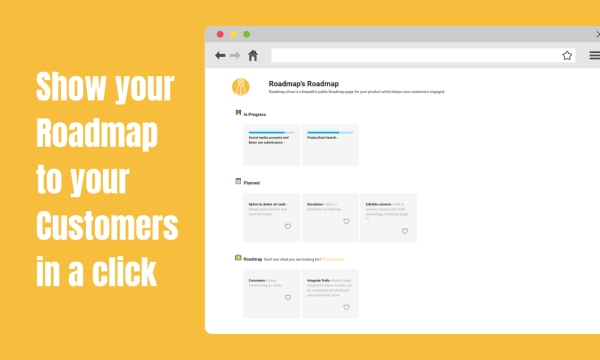 Providers of innovative tech-driven business solutions, Avifa Infotech Pvt Ltd, announces the launch of Roadmap.show, a user-friendly platform for creating a public roadmap page for products
The team at Avifa Infotech Pvt Ltd, led by the passionate 28-year-old, Avijit Sarkar from Kolkata, has again reiterated their commitment to providing their clients, especially businesses, with solutions to enhance customer engagement, as the company recently launched the Roadmap.show. The platform is designed as a simple drag, drop and embed tool that enables users to build a beautiful interactive public Roadmap page with relative ease.
"While working on our other product GoDial, we came across a lot of customers wanting to know when we were releasing a feature, or was it planned at all. They often came with a lot of new valuable ideas. So we had to build our own roadmap page. However, it was static, we had to manually manage it, nor was it engaging for the customers. Hence, we built roadmap.show, a simple tool that does it all for you," said Avijit Sarkar, founder of Avifa Infotech Pvt Ltd.
Customer feedback and engagement have become major marketing tools that allow businesses to connect with their target audience. Over the years, several solutions have been developed to help businesses engage their customers more effectively. Unfortunately, many of the available options are not particularly comprehensive or user-friendly to address the concerns of users. However, Avifa Infotech seeks to take the experience a notch higher with the creation of Roadmap.show.
Roadmap.show enables businesses to easily get customer feedback, with features that allow customers to own the product by being a part of the process. The public interactive roadmap page comes with a wide range of features and functionalities, including collection of customers' ideas and notifications to keep customers engaged. It also allows customers to express their opinion about a product, request new features, and see the latest updates on their favorite brands. Having a public Roadmap.show page for a brand will increase it's transparency, build trust and engage customers and increase retention.
Roadmap.show comes in two versions – free and premium edition with advanced features at $20 monthly or $99 yearly for premium features. There are also plans to add more features to the all-inclusive product management tool. The features include direct connection to Trello and Git Project boards and Customisable Themes.
Media Contact
Company Name: Avifa Infotech Pvt Ltd
Contact Person: Avijit Sarkar
Email: Send Email
Country: India
Website: https://roadmap.show