Saudi Arabian HVAC Market Trends and Business Scenario Through 2030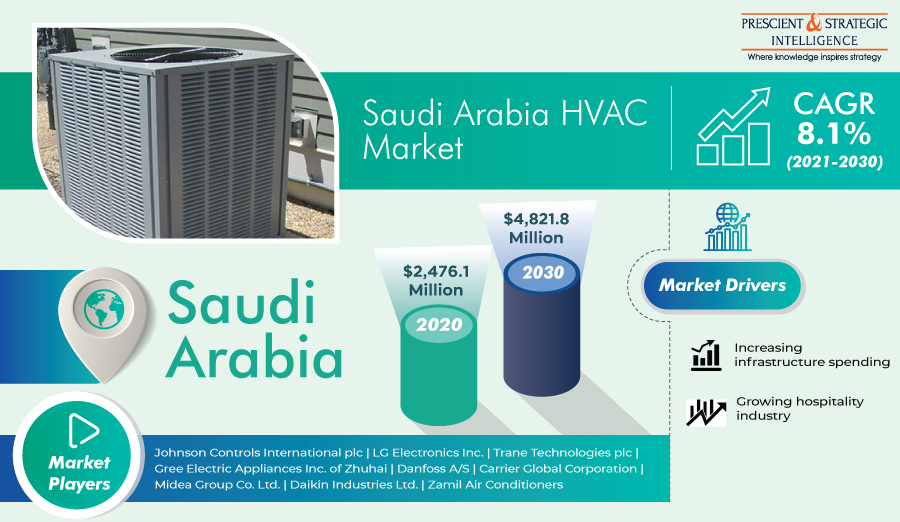 Western Saudi Arabia held the largest revenue share in the HVAC market in 2020. This was because of the major infrastructure development projects in the region and religious influence of the cities of Makkah and Madinah.
Until the 1930s, the Saudi economy had little to boast, with the major part of it made by subsistence living, wherein people rely on natural resources for their basic needs. But, since the development of oil fields in 1933, Saudi has become one of the most-important countries for the global economy, as it is the largest exporter of crude oil (petroleum). The kingdom's financial prosperity, as a result, has sparked a construction boom here, which, in itself, is now a major engine of its economic growth.
As per P&S Intelligence, the rampant construction activities will likely take the Saudi Arabian HVAC market value from $2,476.1 million in 2020 to $4,821.8 million in 2030, at an 8.1% CAGR between 2021 and 2030. This is because, occupying a major part of the Arabian Desert, the kingdom witnesses perpetually hot and dry weather, which makes air conditioning important. Earlier ventilated by traditional wind catchers, Saudi buildings are now being equipped with modern HVAC systems.
With the rapid economic growth, cities are expanding, which is leading to the increasing infrastructure spending to sustain the booming urban population. For instance, $23 billion are being spent to construct Riyadh Metro, which will have six lines and 85 stations. Similarly, Jeddah Metro will have 46 stations across three lines. HVAC systems are one of the biggest requirements at metro stations, underground tunnels, and inside the trains, which is why the demand for such systems is rising in the kingdom.
Get the sample pages of this report at: https://www.psmarketresearch.com/market-analysis/saudi-arabia-hvac-market/report-sample
In the same way, Vox Cinemas, which opened its first movie theatre in the kingdom in May 2019, is planning to have 600 screens in Saudi Arabia by 2023, investing $500 for this expansion. Essentially closed spaces, theatres and other such venues have multiple HVAC systems. Moreover, the first phase of the $500-billion NEOM City was completed that year, which saw massive HVAC sales for a differentiated array of buildings. With more phases of the project taking shape, the demand for such equipment will increase further.
Similarly, with increasing business opportunities, the country's hospitality sector is growing. The Middle East is already known for its luxurious lifestyle, and with Saudis becoming modern every year, many dazzling hotels and resorts are being constructed. The Intercontinental Hotel Group opened a 4,200-room hotel, while Radisson Hotel Group opened a 355-room hotel, its 43rd in the kingdom, in 2019. Moreover, Hilton Worldwide plans to open 35 hotels here in the next 2–3 years. Apart from business, the kingdom's booming tourism industry, led by the holy sites of Mecca and Medina, is driving hotel construction here.
Another key sector that is propelling the Saudi Arabian heating, ventilation, and air conditioning market is district heating and cooling (DHC). It has been considered better to have a centralized heating and cooling system for a group of buildings than to have individual systems for every building. This is because DHC systems consume up to 50% less energy than individual HVAC units in individual buildings. With the mounting energy prices and widespread environmental concerns, the usage of DHC is rising here.
Browse detailed report on Saudi Arabia HVAC Market By Offering, End-User and Growth Forecast to 2030
Moreover, HVAC systems are themselves becoming smart with the integration of automatic functions, connected sensors, and better controls. Moreover, ground-source HVAC systems, which use the heat contained within the ground to perform heating and cooling, are helping reduce the consumption of fossil fuels at power plants by requiring lesser electricity from the grid. To further boost this cause, solar-powered HVAC systems are becoming the trend in the kingdom. All such efforts can be credited, in part, to the Saudi Vision 2030, which aims to reduce the country's dependence on the oil trade.
Hence, with economic growth, the installation of HVAC systems, especially air conditioners, will burgeon in Saudi Arabia.
Market Size Breakdown by Segment
By Offering
Equipment

Heating

Heat pumps

Air-source
Water-source
Ground-source

Furnaces

Gasoline
Propane
Electric

Boilers
Unitary heaters

Ventilation

Ventilation fans

Centrifugal fans
Axial fans
Domestic exhaust fans
Power roof fans

Air handling units (AHUs) and fan coil unit (FCUs)

AHU

Terminal units
Makeup air units
Rooftop units

FCU

Humidifiers/dehumidifiers
Air cleaners

Type 1: High-efficiency particulate air (HEPA) + carbon
Type 2: HEPA + carbon + ionizer
Type 3: HEPA + carbon + ultraviolet (UV)
Type 4: HEPA + carbon + ionizer + UV
Type 5: Other technologies

Cooling

Room air conditioners (ACs)
Split units
Ducted splits/packaged units

Water-cooled condensers
Air-cooled condensers

Variable refrigerant flow (VRF) systems

Heat pump systems
Heat recovery systems

Chillers

Centrifugal
Screw
Scroll
Absorption
Reciprocating

Service

Upgradation/replacement
Maintenance and repair
Installation
Consulting
By End-User
Commercial

Offices and buildings
Hospitality
Transportation
Supermarkets/hypermarkets
Healthcare
Government

Industrial

Food and beverage
Oil and gas
Automotive
Energy and utilities

Residential
By Region
Central
Southern
Western
Eastern
Browse Other Related Reports
HVAC Services Market in United States – Geographically, the southern region accounted for the largest share in the U.S. HVAC services market in 2019, owing to the varying climatic conditions of the southern cities. Additionally, the accelerating urbanization rate in the region is also driving the demand for HVAC systems there.
HVAC Market in U.A.E. – P&S Intelligence credits the unfavorable climate while forecasting a 5.2% CAGR for the U.A.E. heating, ventilation, and air conditioning market during 2020–2030. At this rate, the revenue generated by the sale of such systems will increase to $2,774.7 million by 2030 from $1,873.1 million in 2019.
Media Contact
Company Name: P&S Intelligence
Contact Person: Abhishek
Email: Send Email
Phone: +918887787886
Address:Noida Sector 2
City: Noida
State: UP
Country: India
Website: https://www.psmarketresearch.com/market-analysis/saudi-arabia-hvac-market