Innovative Neck and Lower Face Massaging Device Effectively Solves Various Skin Problems
November 29, 2021 – The E2C Neck and Lower Face Skin Revitalizer is a new age multifunction simple beauty device developed to assist in the revitalization of people's facial skin with a focus on dwindling pores, acne treatment, and skin rejuvenation.
The Neck and Lower Face revitalizer is a customer-friendly and waterproof E2C skin product made out of ABS & Stainless-Steel. It possesses a rechargeable battery that is easily charged with a USB cable, comes in varying colors as desired, and employs a hot-cold operational mechanism. This tested waterproof product comes with a 12-month warranty which denotes the product's trustworthiness, durability, and product shelf-life.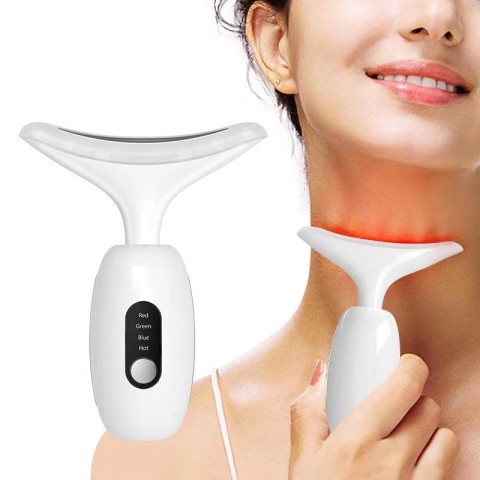 The Neck and Lower Face revitalizer is one exciting product of E2C with an affordable price. The most affordable beauty tool for any average there alongside its ease of usage and maintenance.
This product meets the needs and target quality of varying skin textures, structure, and general skin makeup and thus, that is why it can be used by and any facial skin type. It is applied as a cosmetic tool; facial cleansing brush, induction instrument, replenishment of skin water, repair of the skin, and wrinkle removal as an ultrasonic vibrating massage tool.
A very light, easy to transport, and easy to be used equipment either at home, the office, or while on vacation (away from the home). Attached to this product is an easy-to-read instructive manual with step-by-step guidelines on how to use the product.
With its highly effective ability to achieve deep cleaning and descaling processes, it comes as an ideal beauty product to purchase. It carefully removes cosmetic residues, accumulated skin oils, and clears the skin pores. The product is efficient in actualizing skin moisture retention, skin brightness, skin rejuvenation, lines, wrinkle removal, and establishing skin nutrient flow from the skin top to bottom.
It comes as a superior product in restoring a wide stretch of skin problems. The changing lights that come on have their specific functions. The Red light being turned on is targeted at whitening and renewing skins, discharging pore shrinkages, and realizing microvascular expansion treatments. The green light is turned on when wanting to perform lighten functions. The blue light on the other hand comes in when it involves acne removal, sebum activity reduction, eliminating acne bacteria, and facilitating oil skin improvement.
Media Contact
Company Name: E2C
Contact Person: Andy Hong
Email: Send Email
Phone: +82 70-4038 9303
Country: South Korea
Website: www.amazon.com/dp/B09MFX7JNP