Blok Beach Club Gets Enlisted on PancakeSwap.
BLOk has established itself as a revolutionary cryptocurrency in the industry. In recent progress, the Company has announced its launch on PancakeSwap today at 07:00 pm UTC.
BLOK uses the hospitality industry, one of the world's most significant and rapidly growing industries. The platform is bringing a new kind of utility to the crypto world by having a solid site business that people can touch and even visit. Its success will reflect positively on the BLOK token's performance.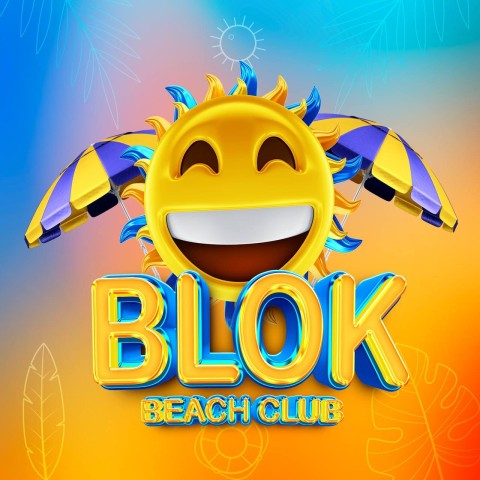 Furthermore, holders of the BLOK NFT automatically become the shareholders/stakeholders of the beach club. They can make decisions for improving and developing both the BLOK token and the Real Life Beach clubs.
All BLOK NFT holders and Token holders can earn regular returns as a passive income from the beach club business. BLOK uses various marketing strategies and partners with big marketing companies to spread the word of BLOK to the world. It offers the following features to the crypto industry:
Unique artwork
More than a fresh profile picture, the Company's exclusive collection of 2d NFTs is glazed, each with its unique characteristics and traits.
Unique project
People can join a unique KYC audited project and earn sufficiently with various benefits starting with the NFT value up to their share of the beach club profits. The more NFTs they hold, the closer people get to financial freedom.
Community royalties
Blok Beach Club is first of its kind project in which everyone, including team members and owners, holds shares in the clubs and the revenues.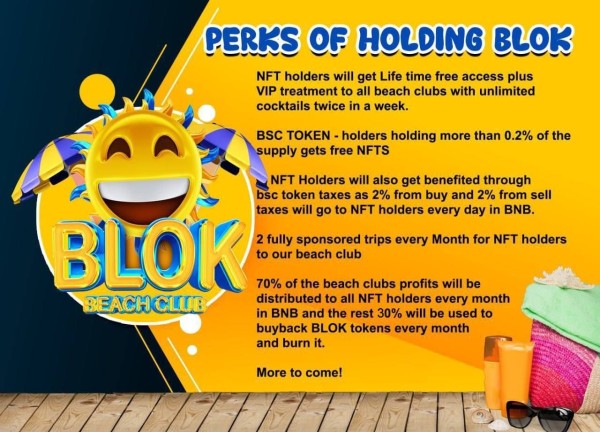 Additionally, NFT Holders also benefit through BSC token taxes as 2% of taxes will go to NFT holders daily in BNB. They also can obtain two fully sponsored trips every Month to the Company's beach club. The token holders can enjoy Lifetime free access to all beach clubs with unlimited cocktails once a week.
Consequently, 70% of the beach clubs' profits are distributed to all NFT holders every Month in BNB, and the rest, 30%, will be used to buy back BLOK tokens and burn them. Along with that, the holders of BSC TOKEN –holding more than 0.2% of the supply gets free NFTS.
About BLOK Beach Club
BLOK is a real-life fiscal business, a Beach Club, to be precise, and it's also a cryptocurrency project. Recently, the Beach Club — BLOK has launched a Genesis BLOK NFT collection pegged directly to a stake in their Company.
In addition, the community can also hold $BLOKs, a tangible, physical asset-backed NFT project TOKEN, with royalties and dividends, allowing holders to be involved as Shareholders and stakeholders. Moreover, BLOK NFTs return a timely Dividend, an enticing passive income, coming directly from the profits of the Beach Club, positively impacting the $BLOK token value and establishing an empire in both worlds, the physical and the metaverse.
Potential users and crypto enthusiasts must visit the following links for further updates about the BLOK Beach Club:
Media Contact
Company Name: BLOK Beach Club
Email: Send Email
Country: United Arab Emirates
Website: https://blokbeachclub.com/