Anshar NH, the entrepreneur with serial groundbreaking ideas to balance work and leisure perfectly.
"Traveling the world can give you some of the best experiences of your life. It can also expose you to new opportunities that can benefit you and others." It's no doubt that such a phrase would only be said by a travel enthusiast like Anshar NH who has seen many parts of the world. Anshar learned to strike the perfect balance between leisure and business after he bought over one of UAE's prestigious travel companies, Desert Rose Tourism LLC. Founded by Ms Antje Dieta, a German tourism consultant, and operates with a German-Arabic Management Team. Apart from being one of Abu Dhabi's most professional tour companies, it is also one of the region's top Destination Management Companies, offering a variety of unique tour experiences with the best pricing. Anshar's takeover led Desert Rose Tourism to win multiple important awards for its distinctive tours and wonderful client services. He is a brilliant entrepreneur with outstanding leadership skills and a thirst for travel which he religiously documents in his blogs.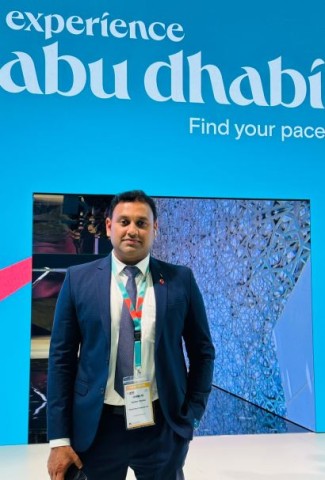 Obstacles, doubters and mistakes can all be overcome with hard work and perseverance" This is the advice that Anshar NH used to believe until he attained success. For those of you who aren't familiar with Anshar, he is an Abu Dhabi-based entrepreneur who originates from Trichur District's Vadakkekad of Kerala and owns some of Abu Dhabi's highly prospering organisations.
His first business venture was the takeover of the well-known Destination Management Company, Desert Rose Tourism, which today ranks among the top tourist agencies in Abu Dhabi. What began as a modest project to offer people convenient and hassle-free travel options has grown to become a household name in the UAE's leisure travel industry. The DRT Group of Companies was founded thanks to Anshar's ten years of dedication, effort, and resources. Due to his exceptional foresight and ability to remain composed in a fast-paced business climate, this entrepreneur has grown his company to unfathomable heights and established a global presence. His next venture was Golden Shine Facility Management LLC which provides property management facilities to homeowners and businesses. His recent visit to Israel was because of a new venture he is dipping his hands into. Of course, this is also travel related and will open many opportunities not only for UAE's tourism sector but also for the people of UAE.
The dedication to achieving the unthinkable
Apart from being a dedicated blogger, Anshar is also a dedicated leader and an equally dedicated entrepreneur. His dedication to providing the best for his customers ensured he trained his staff in the best way which navigated his company into winning one of the travel world's most reputed awards TripAdvisor's Travelers' Choice Award for five consecutive years from 2016 to 2021. Even the COVID pandemic didn't break Anshar's strong will and he proudly sailed the business into smooth waters without a single layoff. When asked how he achieved this feat, he humbly replied "My team is my strength and I couldn't imagine losing even a small part of my strength. Your mind is your master and if you think anything is possible you are 75% closer to achieving that goal."
Media Contact
Company Name: DRT Group of Companies
Contact Person: Haris Ali
Email: Send Email
City: Abu Dhabi
Country: United Arab Emirates
Website: https://www.drtholidays.com/