GreenPowerHub launches major platform upgrade with enhanced trading features
Global Renewable Energy Network is set to become the future of renewable energy trading.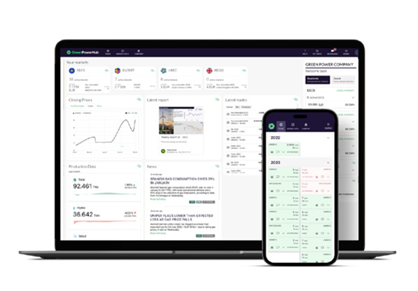 GreenPowerHub AS (GPH), Europe's leading renewable energy trading network, today announced the rollout of Green- PowerHub 2.0. The latest upgrade includes personalized user experience plus major improvements of trading flow and navigation.
"Over the past three years, GreenPowerHub has built the technology and expertise to be a leading provider in the Energy Attribute Certificate (EAC) market, and we will keep accelerating optimal and personalized user experience to cater to our clients' needs in the fast-growing, complex and volatile EAC markets," says Wei Cai, CEO of GreenPowerHub.
A Personalized Dashboard –
GPH users now have an improved navigation and personal dashboard with the full picture of the markets they are interested in, including live interests, trades, proprietary data, and own company dashboards and reports.
Enhanced Trading Features via Mobile, Voice and Data Flow –
We have been listening closely to our users to enhance the trading flow.
Now instant trading on smaller screens is enabled. Interest views are highly optimized for mobile, with bids and ask clearly viewable next to one another, plus options of multiple views at one time.
Let GPH talk to you in your language about the market and live feeds. You can choose what you want to hear in terms of interests, trades, chat and more, with an instant "mute" function when needed.
Where you can click on the analytics button on an Interest, compare similar interests and view price development.
About Energy Attribute Certificate (EAC)
Energy Attribute Certificates (EAC) are important schemes to accelerate the energy transition. It represents the environmental attributes of the generation of a one-megawatt hour (MWh) of energy produced by renewable sources.
Using EACs, end-users around the world can make reliable claims about their renewable energy usage, such as: "my company runs on 100% wind or solar energy".
About GreenPowerHub AS
Established in 2019 and based in Norway, GreenPowerHub is Europe ́s leading renewable energy trading network with a wide range of renewable energy products and services, including Guarantees of Origin (GOs), Elcerts, and I-RECs. Today, nearly 400 members are actively using the digital platform that runs 24/7, valuing fast execution, cost efficiency, and full-price transparency.
For more details, visit: https://www.greenpowerhub.com or contact Aurora Constance Bekkevold at [email protected]
Media Contact
Company Name: GreenPowerHub AS
Contact Person: Aurora Constance Bekkevold
Email: Send Email
City: Oslo
Country: Norway
Website: greenpowerhub.com