Hearing Loss Pipeline Drugs Analysis Report, 2023: FDA Approvals, Clinical Trials, Therapies, Mechanism of Action, Route of Administration by DelveInsight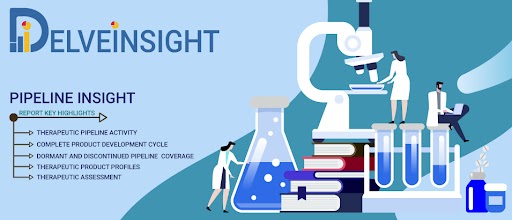 (Las Vegas, Nevada, United States) As per DelveInsight's assessment, globally, Hearing Loss pipeline constitutes 32+ key companies continuously working towards developing 35+ Hearing Loss treatment therapies, analysis of Clinical Trials, Therapies, Mechanism of Action, Route of Administration, and Developments analyzes DelveInsight.
"Hearing Loss Pipeline Insight, 2023" report by DelveInsight outlines comprehensive insights into the present clinical development scenario and growth prospects across the Hearing Loss Market.
The Hearing Loss Pipeline report embraces in-depth commercial and clinical assessment of the pipeline products from the pre-clinical developmental phase to the marketed phase. The report also covers a detailed description of the drug, including the mechanism of action of the drug, clinical studies, NDA approvals (if any), and product development activities comprising the technology, collaborations, mergers acquisition, funding, designations, and other product-related details.
Some of the key takeaways from the Hearing Loss Pipeline Report:
Companies across the globe are diligently working toward developing novel Hearing Loss treatment therapies with a considerable amount of success over the years.
Hearing Loss companies working in the treatment market are Acousia Therapeutics, Frequency Therapeutics, Acousia Therapeutics, Decibel Therapeutics, Otonomy, Inc., Pipeline Therapeutics, AudioCure Pharma GmbH, Frequency Therapeutics, Sensorion, and others, are developing therapies for the Hearing Loss treatment
Emerging Hearing Loss therapies such as – ACOU 082, FX-345, ACOU085, DB-020, OTO 413, PIPE 505, AC102, FX-322, SENS-401, and others are expected to have a significant impact on the Hearing Loss market in the coming years.
In August 2022, in order to investigate the repeated twice-daily administration of oral SENS-401 in adult participants with moderately severe to profound hearing loss who have already agreed to undergo cochlear implant surgery as a result of their hearing impairment, Sensorion started a Phase II a, open-label, randomised, and controlled study
In January 2023, in its Phase 2a Proof of Concept clinical trial of SENS-401 (arazasetron) in patients with Cisplatin-Induced Ototoxicity, Sensorion reports the enrollment of the first patient. SENS-401's ability to prevent ototoxicity brought on by cisplatin in adult patients with a neoplastic condition is being tested in the exploratory Phase 2a, multicenter, randomised, controlled, open-label research, NOTOXIS
Hearing Loss Overview
Hearing loss, which can range from minor to profound, is the partial or whole loss of hearing in one or both ears. There are numerous causes, and although it can affect anyone at any age, it most frequently affects those over the age of 60. Medical terminology for hearing loss in older people is presbycusis.
Get a Free Sample PDF Report to know more about Hearing Loss Pipeline Therapeutic Assessment-
https://www.delveinsight.com/sample-request/hearing-loss-pipeline-insight
Emerging Hearing Loss Drugs Under Different Phases of Clinical Development Include:
ACOU 082: Acousia Therapeutics
FX-345: Frequency Therapeutics
ACOU085: Acousia Therapeutics
DB-020: Decibel Therapeutics
OTO 413: Otonomy, Inc.
PIPE 505: Pipeline Therapeutics
AC102: AudioCure Pharma GmbH
FX-322: Frequency Therapeutics
SENS-401: Sensorion
Route of Administration
Hearing Loss pipeline report provides the therapeutic assessment of the pipeline drugs by the Route of Administration. Products have been categorized under various ROAs, such as
Oral
Parenteral
Intravenous
Subcutaneous
Topical
Molecule Type
Products have been categorized under various Molecule types, such as
Monoclonal Antibody
Peptides
Polymer
Small molecule
Gene therapy
Hearing Loss Pipeline Therapeutics Assessment
Hearing Loss Assessment by Product Type
Hearing Loss By Stage and Product Type
Hearing Loss Assessment by Route of Administration
Hearing Loss By Stage and Route of Administration
Hearing Loss Assessment by Molecule Type
Hearing Loss by Stage and Molecule Type
DelveInsight's Hearing Loss Report covers around 35+ products under different phases of clinical development like
Late-stage products (Phase III)
Mid-stage products (Phase II)
Early-stage product (Phase I)
Pre-clinical and Discovery stage candidates
Discontinued & Inactive candidates
Route of Administration
Further Hearing Loss product details are provided in the report. Download the Hearing Loss pipeline report to learn more about the emerging Hearing Loss therapies
Some of the key companies in the Hearing Loss Therapeutics Market include:
Key companies developing therapies for Hearing Loss are – Cochlear Limited, Sonova Holding AG, William Demant Holding Group, GN Store Nord A/S, Widex A/S, Starkey Hearing Technologies, Sivantos Group, Oticon, Phonak, ReSound, MED-EL, Advanced Bionics, Oticon Medical, Bernafon, Unitron, Sonic Innovations, Rion Co., Ltd., Nurotron Biotechnology Co., Ltd., Hansaton Akustik GmbH, Microson, Audina Hearing Instruments, Widex India Pvt. Ltd., Amplifon, Neuromod Devices Ltd., Sound Pharmaceuticals, Advanced Bionics LLC, Frequency Therapeutics, Orca Health, MED-EL Corporation, and others
Hearing Loss Pipeline Analysis:
The Hearing Loss pipeline report provides insights into
The report provides detailed insights about companies that are developing therapies for the treatment of Hearing Loss with aggregate therapies developed by each company for the same.
It accesses the Different therapeutic candidates segmented into early-stage, mid-stage, and late-stage of development for Hearing Loss Treatment.
Hearing Loss key companies are involved in targeted therapeutics development with respective active and inactive (dormant or discontinued) projects.
Hearing Loss Drugs under development based on the stage of development, route of administration, target receptor, monotherapy or combination therapy, a different mechanism of action, and molecular type.
Detailed analysis of collaborations (company-company collaborations and company-academia collaborations), licensing agreement and financing details for future advancement of the Hearing Loss market.
The report is built using data and information traced from the researcher's proprietary databases, company/university websites, clinical trial registries, conferences, SEC filings, investor presentations, and featured press releases from company/university websites and industry-specific third-party sources, etc.
Download Sample PDF Report to know more about Hearing Loss drugs and therapies
Hearing Loss Pipeline Market Drivers
Rapidly growing incidence of acute sensorineural hearing loss, rise in geriatric population are some of the important factors that are fueling the Hearing Loss Market.
Hearing Loss Pipeline Market Barriers
However, challenges associated with the delivery of therapeutics for Sensorineural Hearing Loss, poor understanding of the specific underlying pathologies and other factors are creating obstacles in the Hearing Loss Market growth.
Scope of Hearing Loss Pipeline Drug Insight
Coverage: Global
Key Hearing Loss Companies: , and others
Key Hearing Loss Therapies: ACOU 082, FX-345, ACOU085, DB-020, OTO 413, PIPE 505, AC102, FX-322, SENS-401, and others
Hearing Loss Therapeutic Assessment: Hearing Loss current marketed and Hearing Loss emerging therapies
Hearing Loss Market Dynamics: Hearing Loss market drivers and Hearing Loss market barriers
Request for Sample PDF Report for Hearing Loss Pipeline Assessment and clinical trials
Table of Contents
| | |
| --- | --- |
| 1 | Hearing Loss Report Introduction |
| 2 | Hearing Loss Executive Summary |
| 3 | Hearing Loss Overview |
| 4 | Hearing Loss- Analytical Perspective In-depth Commercial Assessment |
| 5 | Hearing Loss Pipeline Therapeutics |
| 6 | Hearing Loss Late Stage Products (Phase II/III) |
| 7 | Hearing Loss Mid Stage Products (Phase II) |
| 8 | Hearing Loss Early Stage Products (Phase I) |
| 9 | Hearing Loss Preclinical Stage Products |
| 10 | Hearing Loss Therapeutics Assessment |
| 11 | Hearing Loss Inactive Products |
| 12 | Company-University Collaborations (Licensing/Partnering) Analysis |
| 13 | Hearing Loss Key Companies |
| 14 | Hearing Loss Key Products |
| 15 | Hearing Loss Unmet Needs |
| 16 | Hearing Loss Market Drivers and Barriers |
| 17 | Hearing Loss Future Perspectives and Conclusion |
| 18 | Hearing Loss Analyst Views |
| 19 | Appendix |
| 20 | About DelveInsight |
*The Table of Contents (TOC) is not exhaustive; the final content may vary. Refer to the sample report for the complete table of contents.
About DelveInsight
DelveInsight is a leading Business Consultant and Market Research firm focused exclusively on life sciences. It supports Pharma companies by providing comprehensive end-to-end solutions to improve their performance. It also offers Healthcare Consulting Services, which benefits in market analysis to accelerate business growth and overcome challenges with a practical approach.
Media Contact
Company Name: DelveInsight Business Research
Contact Person: Gaurav Bora
Email: Send Email
Phone: 8774225362
Address:27 Drydock Ave S. Jones Blvd #2432
City: Boston
State: MA
Country: United States
Website: https://www.delveinsight.com/consulting/asset-prioritizaton-services