After enjoying the success of his song "Finish Strong", artist Vernard is releasing his new EP "Trust Me"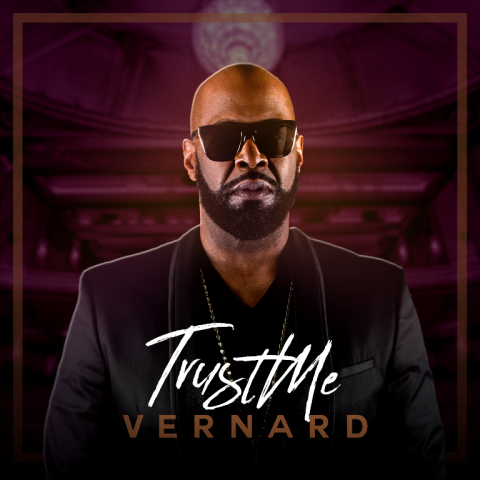 Vernard is a talented R&B artist who came into the limelight with the release of his first single "Finish Strong" last year. The song produced, mixed and mastered at Drummerboy Productions (Sarasota, FL) by Etienne "EJ" Porter, featured meaningful lyrics and soulful sounds that inspire the listener to stay strong during difficult times in their life. "Finish Strong" received great response from fans and critics alike and as a follow up to its success Vernard is now releasing his three-song EP "Trust Me". Vernard has been a part of the music industry for quite some time and has done studio work for artists like Michael McDonald, Shania Twain, and Common.
Trust Me is composed of three songs titled "On the radio" and "Trust Me" and the aforementioned "Finish Strong" featuring vocals by Vernard, with lyrics and music by Henry Porter, II, Étienne J. Porter, Vernard and Fred L. Steen. The song "On The Radio" is a romantic song featuring beautiful vocals by Vernard and groovy beats. Barry Byrd and Marvin Hendon II have given subtle yet foot-tapping guitar notes to the song that make it the perfect song for a long drive. The chorus line, "Our love should be on the radio" is catchy and makes one infectiously hum along to the track. Overall, it is a lovely song coming out from a new artist, that has the potential to reach thousands of music lovers worldwide.
The second song "Trust Me" also features crisp romantic lyrics that touch the soul accompanied by slow but prominent beats that make one feel like slow dancing with their loved one. Through both the songs, Vernard is unleashing his instincts and his deeply caring soul. Vernard grew up in a home filled with Gospel music and was later instructed by Gospel music's Bishop James E. Lenox. He discovered his voice at Historic Fisk University, touring with the world-renowned Fisk Jubilee Singers in Nashville and since then has performed in celebrated venues in the US and Europe. He has shared the stage with Grammy winners such as Bono, Wyclef Jean, and Shania Twain.
Although Adult contemporary R&B may be an underrated genre, Vernard's songs stand out. His amazing vocal ability intertwined with beautiful music from his team creates songs that may appeal to a global audience. His new EP Trust Me will be released on 8th November on major music platforms.
To Book Vernard, contact [email protected]
Media Contact
Company Name: G Media
Contact Person: Press Executive
Email: Send Email
Country: United States
Website: www.facebook.com/gmediasolutions